Dean Development & Professor Strategy, BIMTECH, Noida
As Dean Development of the institute, is strategizing and guiding key developmental portfolios of  the centres like International Relations, Branding and Media, Corporate Relations, Alumni, Admissions. Is also mentoring the launch of the Executive Programme scheduled for 2019. This is besides the other role of teaching, mentoring and conducting sessions in Management Development Programmes.
Professor in Strategic Management Area and Professor in Charge IIM Jammu
As a faculty in teaching role, assigned the area of Strategic Management
Professor in Charge- Besides the role of faculty in teaching and research, was entrusted the role of overall supervision of IIM Jammu, institution building and coordination on new campus project and setting up academic systems and processes.(IIM Jammu was being mentored by IIM Lucknow with the IIM L Director acting as Mentoring Director for IIM Jammu.)
Visited/ nominated by IIM J for  ESCP London for guiding students undergoing 6 week Immersion in July 2017.
Member of the Board of Governors IIM Jammu and is in direct coordination with Chairman BOG
Have been in the faculty selection board of institutions like IIM Trichy and others.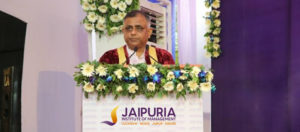 Jaipuria Institute of Management, Noida
As Director was engaged in drawing up and executing a strategic vision and its future action plans towards academic excellence and creating a meaningful relevance for the industry and society at large.Was successful in bringing the institute at the National Map of leading B schools with 42nd position in NIRF Ranking by MHRD Govt of India.
Jaipuria Institute of Management, Jaipur
Spearheaded a much challenging task of transformation of the institute having a larger potential than its prevailing status in 2011. Drawing upon the established credentials of its other sister campuses at Lucknow and Noida, aim is to establish Jaipur Campus as a leading B school in the region of Rajasthan and adjoining states.
A visible change is being noticed in the campus around academics, industry and social interface brining in a positive transformation in the students, faculty and staff.
Initiatives in establishing academic rigor and excellence, enhancing students' experience in teaching and learning and competence building by adopting principles of best practices, other major initiatives in connecting with the industry and society are contributing to the long term objectives of the campus.
One of the earlier recognition which the Institute has received of the efforts made during last one year is the Business Today-Nielsen 2012 Ranking where Jaipuria, Jaipur is the only B-school from Rajasthan to be ranked amongst the Top 50 B-Schools of India. Moreover, Confidence amongst student's community enhanced significantly resulting into Full Intake admissions of 90 students as against previous years of 26 and 39 respectively in 2011, 2010.
Successful Completion of AIU Accreditation process of PGDM programme
Co-Creating Students' Experience
A student centric approach driven by faculty and students themselves have helped in co-creating experience in teaching-learning process, co-curricular and recreational process on campus, their interface with the industry and other sections of the society. This helps to create an environment where students are self- motivated to engage themselves into meaningful roles as per their interest and also systematically plan their actions as per their career plans and liking.
Academics
Programme Design, Curriculum Design and Course Development has been initiated by newly constituted Academic Advisory Council, Internal Academic Council and Jaipuria Area Academic Council.
Curriculum Design Policy, Course Design Policy, Assessment and Evaluation Policy, Research and Case Policy, Students' Handbook and other policy documents documented.
Foremost focus on academic discipline, pedagogy towards practice oriented learning, research orientation of faculty and students
Hiring of faculty with proven track records and emphasis on Experts for visiting and guest lecture assigned.
Focus on soft skills, personality development, value and ethics and a closer understanding of the social context through civil society organizations
As the Chairperson, Jaipuria Academic Council, Strategy and General Management played a crucial role in laying the foundation of the area and drawing a long term Vision and plan for the development of the area.
Mentoring Clinic with a purpose to develop a close and fruitful mentor-mentee relationship and practices for learning and teaching besides classroom hours.
Major initiatives in building the state of the art academic infrastructure including digital boards, smart TVs, IT aids, faculty rooms, Library software and resources and other requisites to enhance the students' experience on campus.
Robust academic administration and establishment of Systems and Processes, Online system. Newwebsite to be launched.
New Programme Initiatives
Establishment of Centers, such as, Centre for Entrepreneurship and Skill Development , (AICTE funded Rs 4 lacs for the Centre); Sadbhaav, Centre for Spirituality and Human Values for inculcating in students, relevance of spirituality and values in professional and day to day life; Parivartan-CSR Initiatives encouraging students' social engagement.
Certificate Programme on Banking, Entrepreneurship,Hospitality and Tourism  formalized to be launched in forthcoming years.
Vocational Courses under AICTE initiative, Entrepreneurship and Competence Building Programme in association with NEN, NISEBUD and NSIC, Govt. of India Undertakings.
Business Thought Leadership Series, a platform for deliberations on contemporary topics by the leaders and citizens of eminence from various walks of life
Research
Faculty work plan and moderate teaching load connected to their areas of interest and sparing more time for research.
Research Proposals and Projects with Bodies like AICTE, RIICO, RUIDP, Tourism dept.,  Govt. of Rajasthan, CII Jaipur chapter etc.
Monthly Faculty Seminars, Encouragement to participate in Conferences for paper presentation, Grants and awards for publications, Workshops on Research development and paper writing, Case writing conducted.
Ideal research environment with Library Facility, On line International Journals such as EBESCO and Emerald, Monetary Research Incentives, Motivation to participate and present papers  in conferences
Web based Integration of Library and Resources of Library at all Four campuses of Jaipuria and Launch of Exclusive portal for Library.
Established association with national libraries and library of major institutes in Jaipur and Delhi NCR.
Launch of National Journal, Foresight and a totally revamped launch of Newsletter, Insight.
Initiatives taken  for involving students with faculty members in research work focusing on SMEs, Industrial clusters, social sector  in the vicinity.
Management   Development  Programmes
Focus on continuous executive education for bringing in more industry relevance in the institute & building faculty competence on real industry situations.
Platform for conducting MDPs in area of Finance, HR, Marketing, both Open and In-Companyconducted by faculty members and experts from outside in the concerned areas. Few of the recent MDPs conducted are CRM, Effective Sales Management, Understanding Global Business Environment for Effective Decision Making with participants from Banking, Insurance, FMCG, Media, Govt. and semi Govt. bodies.
Success of Open Programmes with good feedback helped in getting In Company programmes from Allahabad Bank for POs, Amul Dairy and others. Helped develop closer interaction with the industry.
Students take initiative under their Industry Interaction Weeks. Programmes on Entrepreneurship and CSR launched for the lesser skilled youth.
FDPs on Research and Analytical tools and Soft wares, teaching methods, contemporary teaching practices, developing research proposal &writing research paper.
International /National Conferences, Workshops, Seminars
International Conference on Sustainable Business ICSBMC 2012 held on  December 7-9, 2012 in association with Eastern Mennonite University, USA, University of Applied Sciences, Finland; University of Illinois, USA and National Entrepreneurship Network (NEN, )India, Global Institute of Flexible Systems Management, India. Over 200 delegates participated from across the world and India and over 75 papers were presented besides three plenary sessions. Luminaries from IIMs, IITs, Experts and Delegates from  Corporate and Government participated. An Edited Volume was published which included select papers.
National Conference on Media and Communication was held on Feb 8-9, 2013 and was attended by a galaxy of audience from media, corporates, academia and govt. Over 30 Research papers were presented on the occasion besides Two technical sessions addressed by experts on media.
Initiatives like National Conference on MSME conducted on March 23-24, 2012, Workshop on Floss (Open Software) for Librarians, Thought Leadership series have been of immense value and success.
A detailed annual plan has been prepared for International and National conferences, Seminars, Workshops, Conclaves to be organized in the next two years.
Clubs, Cultural and Sports Initiatives
Could instill the importance of club activities, cultural and sports activities on campus which has been appreciated by all the stake holders including students who until sometime found the environment of  low engagement. Activities of more than a Dozen clubs are found conducive for building capabilities in students and are also found congenial and healthy means of entertainment while staying on campus.
All major cultural initiatives are student driven and the students have unleash their potential in every sphere both internally and externally.
Understanding the relevance of such initiatives, even staff members came up with initiatives like 'Ullahas', a platform for social and family engagement of faculty and staff.
Club initiatives in the functional areas of Marketing, Finance, HRM, Sports, Students welfare and Staff and faculty welfare.
Alumni
Alumni association has been made live, ensuring participation of the alumni.       The office bearers are ensuring that the strengths of each of the alumnus are leveraged for the benefit of Jaipuria family and the brand.
A year round activity has been planned where Alumni would meet formally and informally and work towards the betterment of the institute, students and for themselves.
Alumni feel more connected to their Alma Mater and are coming forward to associate themselves in its growth. Personally, am connected with them on Social Media such as Facebook, LinkedIn.
International Relations
Initiatives have been taken first time in making active all the association of Jaipuria, with partner institutes in the USA, Europe, Thailand and others.
Formalized association with University of New Castle, Australia for all Jaipuria Campuses in areas of Student exchange, Faculty exchange, Holding of International Conference and joint research.
Industry and Corporate Relations
Driven by faculty and staff, close interface has been developed for MDPs, training programmes, short term projects, internships, joint research and consultancy.
MDP & Consultancy Division, Corporate Relations Division, Research and Publication Division, Media and Publicity Division, Alumni Association established and their  initiatives helped in establishing closer association with corporate, govt. bodies, trade chambers, associations, academic institutions, media and others in order to facilitate closer industry – institute partnerships.
Placements and Training 
Training and Development initiatives focus on preparing students on subject knowledge, behavioral skills, confidence, communication resulting in an unprecedented outcome of higher placement conversions and higher salary packages.  Initiatives were very well supported by integrated placements team.
Place com constituting of students and faculty members has put the placement processin  full swing with new cos. from the state and outside and the response has been quite encouraging with new companies visiting campus and recruiting students.
Admissions
Admissions for the year 2012 was a key challenge as intake for last two batches were abysmally low and the institute could not attract even half of the approved  intake.
A related critical challenge was of poor brand visibility in the state of Rajasthan including Jaipur city and outside the state. Institute somehow lacked credibility in terms of value addition and placements it provides besides the overall campus experiences.
A major turnaround strategy was exercised to rebuild the strong brand of Jaipuria and also correct the misplaced perception of Jaipur Campus.
Both internally and externally, Admissions, Marketing and Brand building activities were  revamped, processes streamlined and manpower trained and groomed which has facilitated more than the expected results.
Full intake of 90 students could be completed, so much so that many candidates had to be refused. The intake is being increased for 2013 to 120 next year and the approval process is being initiated.
Innovative Branding and Publicity Initiatives
Strategy was to develop a direct contact as far as possible with the students, parents, teachers, mentors and all other influencers such as tutorial classes, coaching institutes, consultants etc.
Under the banner of Jagriti, Anubhuti, Abhyudaya, Quiz competitions, management games, paper presentation, Debate have been conducted in various colleges and universities drawing a large response from the students. National Sports meet has been a great success.
The admissions team established strong association with consultants, coaching institutes like CL, IMS, TIME etc.
Merit scholarships have been introduced to attract quality students and hashelped the meritorious students prefer Jaipuria, Jaipur.
Faculty & Staff Development and HR policies
Faculty being the most important resource in a B school, the newly developed HR Policy provided  many benefits to attract and retain the best talent and provide them the most suitable environment for teaching, research and other academic endeavors.
Freedom and flexibility to attend research conferences, write and present papers, ideal teaching load and openness has helped the faculty pool to develop itself in an optimal manner.
Training on Communication, IT Skills, Behavioral skills and other need based modules and soft wares help develop contemporary expertise.
Accreditations, Approvals and Rankings
AIU Accreditation process for PGDM Programme at Jaipur has been successfully completed and the accreditation certificate is awaited.
Initiatives around various facets of the institute  helped improve the National Ranking of the institute in which it has been participating such as Business Today, CSR-GHRDC, Indian Management and others.
Overall architecture and the processes in the institute and the programme has been so designed and developed that it is in near preparedness for all kinds of academic accreditation and ratings by National and International bodies such as AIU, NBA, NAAC, SAQS, and others.
CSR initiatives
Jaipuria Jaipur awarded Community Leadership Award for its extraordinary contribution in education, training and various capacity building initiatives during 2012-13 by Institute of Leadership Development, an unit of IFCI, India on Feb 23, 2013
Community engagement initiatives in area of teaching, organizing co-curricular activities for not so privileged children in adjoining villages and panchayats.
Study on identifying problem areas and Capacity building initiatives for small scale industries in the neighborhood such as  pottery, Sanganeri prints, farming, water resources etc.
Proposal for institution of State level CSR awards for industries practicing in Corporate Social Responsibility activities as a part of their organizational mission.
Governance and Campus Management 
A serious attempt was made to make all decisions, activities transparent, collective and systems driven. Help from auditors were sought to establish the best practices in each functional area and the transformation was made from a 'Systems Absent Regime' to a 'SystemsDriven Regime'.
Accountability, Discipline and above all desired motivation levels to own up the responsibilities were generated amongst faculty and staff and this has paid off with fruitful results.
AKGIM Ghaziabad
In a very short span, attempt was to make positive changes at AKGIM Ghaziabad ( Ajay Kumar Garg Institute of Management) by taking successful initiatives important for any promising B school in international and national context, such as Academics, New Programme Initiatives, Research, Management  Development Programmes, International Conferences, International Relations, Industry and Corporate Relations, Admissions, Placements, Innovative Branding and Publicity Initiatives, and Accreditations and Approvals, Rankings, Faculty Recruitments and HR policies,  Team Building, One of the unique CSR initiatives, Cultural And Sports initiative, Robust Academic administration and establishment of Systems and Processes.
AKGIM Ghaziabad, is a B school offering AICTE approved PGDM programme brought up by IIME Society, the founder of Ajay Kumar Garg Engineering College, the No. 1 college under UPTEC, having received Excellence award by UPTEC for two consecutive years 2009 and 2010.
Key Initiatives
Initiated Entrepreneurship Programme in association with NISEBUD and Go Green Programme in association with PCRA
Designing a comprehensive  Faculty work load  plan which included teaching, research, conducting of executive development programmes. Research identified as one of the foremost priority areas for which ample support were extended and policies designed  to motivate and reward for good research work.
Focus on continuous executive education for bringing in more industry relevance in the institute
Platform for conducting MDPs in area of finance, HR, Marketing, both open and in house companies,  supported by the best of MDP infrastructure.
ICCGC 2011 (International Conference on challenges of Globalization and Building Competencies) organized in association with NISEBUD was highly successful with over 164 papers presented and participants from various countries.  Papers published in two volumes by Macmillan India Ltd. Papers received from IITs, IIMs and many other leading institutes besides international participations from Asia Pacific Countries, Middle East, North America, Japan, New Zealand and South East countries
TWO more conferences in the area of HR and Marketing concluded with great success in association with ISTD & other institutes.
Placements:More than 2 dozen companies looked at AKGIM students for final placement from a Zero company situation.
Admissions:For the year 2010-12, 60 plus admissions were ensured in 3 months time, up from a figure of 36 students in the year 2009-11.
For 2011-13, a strong network was established and many innovative initiatives were taken to promote the AKGIM brand, its philosophy and Vision of 'Excelling with a difference'
Brand Building:Under Management Czar umbrella, Competitions on Quiz, Management Games, Paper presentation, Debate were conducted in various colleges and universities drawing a large response from the students
National Merit scholarship 2011 a CSR initiative was started as one of the innovations of its kind never initiated for admissions in other than AKGIM,  institutions.
Accreditation by CRISIL for academic excellence.
Could instill the importance of cultural and sports activities on campus which has been appreciated by all the stake holders including students who until sometime found the environment very low and conducive for building capabilities though these activities.
SPIC MACAY besides performances came forward to establish the Ghaziabad chapter nodal point at AKGIM
Under Student Activity Forum( SAF) various committees were constituted where student members took all the initiatives
Developed a systems and process driven institution for effective running of the institute.
Academic Administration as Chairperson PGDM Programmes:
Gained an in-depth knowledge and understanding of academic responsibilities, academic administration and its processes, admissions, developing international linkages and establishing industry-interface and institution building in a business school. Held key responsibilities of  Chairman PGDM Programmes, Chairman Admissions at IMT Ghaziabad, Member of  the Core team for international institution building at Dubai and IMT Dubai Accreditation Team. Been a member in various committees such as Programme Committee, International Linkages Committee, Research Committee, Placement Committee and  Library Committee.
Committee Membership at IMT Ghaziabad:
Post Graduate Programme committee
International Linkages committee
Placement committee
Library committee.
Chairman PGDM Programmes at IMT Ghaziabad 
Held responsibilities for all the Five PGDM Full Time Programmes (Marketing, Finance, International Business, Information Technology, Human Resource Management) at IMT Ghaziabad.
The administration and processing of coursework, assessment and examinations impose heavy administrative burdens and obligations on the school. As Chairman (PGDM Programmes), ensured that these activities run smoothly with due care to the interests of students and faculty. Taken a lead initiative in developing the new Academic Manual after due deliberations and approval by the Faculty Council.
Taken a lead initiative towards national and international accreditation of these programmes. All the PGDM programmes are NBA and NAAC accredidated and efforts are on towards international accreditation from SAQS and AMBA.
Ensured up-gradation and efficiency of the online operations of  the  programme from entry level till completion of PGDM Course including registration of course, quizzes, assignments submission, grading system, students feedback, subject feedback, registration of electives, attendance, final processing of degree under my leadership and guidance.
Programme Director E Learning programme at NIIT Imperia  
Was assigned the responsibility for the First E Learning, One Year General Management Programme for Executives, started by  IMT Ghaziabad in collaboration with NIIT Imperia at an all India level for more than 50 students.
The responsibilities included design of the programme and curriculum, smooth conduct of the complete programme, conducting in-campus study sessions, facilitating all kind of academic support to students across 13 NIIT Imperia centers in the country.
Highly appreciated for  the extraordinary success of this programme and making way for the launch of  Second GMPE programme and similar such programmes of shorter durations.
Chairman Admissions, IMT Ghaziabad, Nagpur, Dubai 
Held  responsibility as Chairman,Admissions for all the three IMT Campuses, Ghaziabad, Nagpur and Dubai.
This involved the responsibility of admitting over 900 students for various programmes across the three campuses which included a chain of activities starting from   preparing and publishing of Admission Brochure, Advertisement and publicity handling, Budgeting and Planning, implementing Logistics at an all India level and in the Middle east, Drawing Marketing and Sales strategy for applications sales, Coordination with IIMs for CAT results, planning and conducting of GD/PI, short listing and admitting candidates into IMT programmes.
Introduced major reforms in entire admission process. Major focus was on ensuring transparency into the whole process, widening scope of student intake from new areas NRIs and PIO candidates from abroad, making the process efficient and ensuring candidates with diversified background and high credentials. These brought about an advantage to the external and internal image of IMT and quality of programmes.
Introduced first time the counseling pattern of admissions in the history of the institute. Highly appreciated for introducing such major reforms.
Admissions  for IMT Dubai in its second year of existence was successfully completed as per the Ministry of Higher Education, U.A.E. guidelines.
Chairman, Master in International Business (MIB) Programme
As Chairman (MIB Programme), gave a new direction to the MIB programme which was started at IMT Ghaziabad in 2005 and brought about academic discipline, rigour and quality improvements in this programme.
A comprehensive restructuring and upgrading for both core and elective courses were done to bring it at par with leading Business schools in India and abroad offering international business programmes. Focus was given to knowledge and skill development by reinforcing industry based projects.
A major initiative in integrating practical and live learning opportunities into curriculum was taken up. Industry visits to SEZs, port visits and a 15 day study tour abroad to Australia and S. East Asia were organized. The class underwent campus study at University of Newcastle, Australia and visited major industries and ports in the country gaining first hand knowledge of  international business.
Complete Graduate Programme operations were made on-line starting from entry till completion of MBA course including registration of course, quizzes, assignments submission, grading system, students feedback, subject feedback, registration of electives, attendance, final processing of degree under my leadership and guidance.
Encouraged students to participate in intra and inter-school competitions be it academic, cultural or social activities.